The Voice of the Martyrs
Request a complimentary copy of Tortured for Christ
The Voice of the Martyrs invites you to request complimentary copies of Richard Wurmbrand's Tortured for Christ. Simply complete one or more of the address forms below. We also ask that you include your name so your friend or family member will know you requested this free offer on their behalf. Along with their copy of Tortured for Christ, your friend will receive a complimentary subscription to The Voice of the Martyrs monthly newsletter. This timely newsletter will keep them informed of Christian persecution worldwide while giving them opportunities to help suffering Christians.
If you do not currently have a copy of Tortured for Christ in your personal library, we also invite you to request a copy for yourself.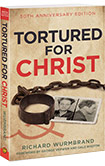 *
Denotes required field. This offer is available to U.S. residents only. Offer limited to one complimentary copy per household please.