The Voice of the Martyrs
Request a complimentary copy of Tortured for Christ
The Voice of the Martyrs invites you to request a complimentary copy of Richard Wurmbrand's international bestseller, Tortured for Christ. Simply complete the address form below. Along with the the copy of Tortured for Christ, you will receive a complimentary subscription to The Voice of the Martyrs award-winning newsletter. This timely newsletter will keep you informed on Christian persecution worldwide while sharing practical opportunities to help Christians who are persecuted for their faith.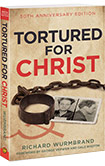 *
Denotes required field. This offer is available to U.S. residents only. Offer limited to one complimentary copy per household please.

Canadian Residents, please proceed to
this link
.
Your Name and Address